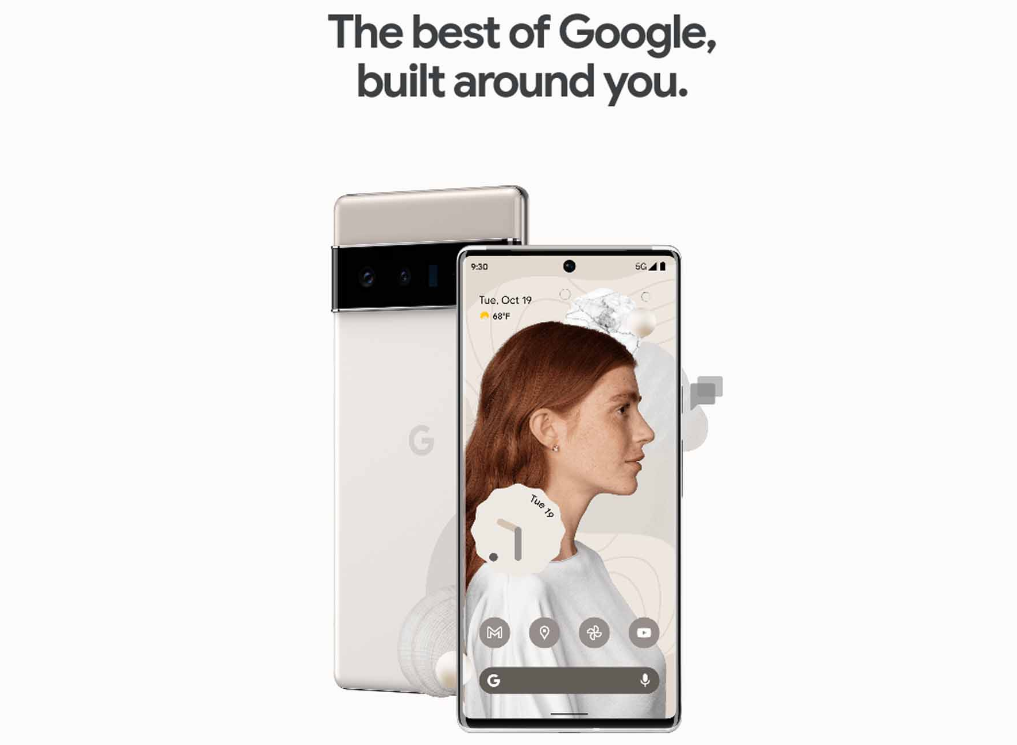 Google Pixel 6 Pro Price in Bangladesh
The latest Google Pixel 6 Pro Price in Bangladesh starts from 94,999 tk. There are three variants: 12/128GB, 12/256GB and 12/512GB. You can find three different colors like Sorta Sunny, Cloudy white and Stormy Black. The most important features are: Android 12, Google Tensor,Titan M2™ security coprocessor, Full-screen 6.7-inch (170 mm1) display, 50 MP wide, 48 MP telephoto, 12 MP ultra wide Camera, USB-C port, In-Display Fingerprint Sensor. Li-Ion 5003 mAh, non-removable battery. All these latest features will blow your mind.
Google Pixel 6 Pro Review:
Design
At first look, the main thing you notice about Pixel 6 Pro is the refreshing new design. The old, spartan form-over-function Pixel language we've been using since the beginning of 2016. Pixel 6 Pro is a stunning phone. Pixel 6 Pro is a stunning phone with a curving display and a glass back, three gorgeous colors and a camera bar that covers the entire width of the phone.
I'm not sure about this camera bar. On the side, I enjoy the idea of seeing Google experiment with something new and distinctive in the ocean of metal and glass slabs. On the other hand, I find it appears that the Pixel 6 Pro looks rather bizarre, lacking a better phrase. It's a bit awkward for me, particularly since the entire thing is jutting out at the top of your phone.
Overall, I appreciate the feel as well as the build. It's sturdy and has a great weight, but not too heavy. It's a bit smaller than its predecessor iPhone 13 Pro, which I've used. Even though the 6.7-inch display is still large to be used with one hand, I believe that this Pixel 6 Pro is more comfortable to hold than Apple's new big phone. The curving back is helpful as well, in contrast to Apple's squared-off edges.
Display
Pixel 6 Pro's display performs an edge over other displays for quality and saturation; However, it lags in brightness. It comes with a highly dynamic 120Hz refresh rate. This means it can go all the way down to 10Hz to conserve battery power; however, it can increase to 120Hz when necessary.
You can see, the Pixel 6 Pro holds up quite well when compared with its predecessors, the iPhone 13 Pro Max and Galaxy S21 Ultra, even being brighter than the former. All three phones are similar in hue saturation, even though the iPhone 13 Pro Max has some advantages in the Delta-E color accuracy score (where zero is the perfect score).
The area where I feel it's Pixel's screen is a bit shaky somewhat is the brightness. Although it's bright, it's quite as bright as Apple's 13 Pro's ridiculously bright display. Inside, the iPhone is once more a step ahead of greater peak brightness and adaptive brightness that is disabled. It's a good thing that the Pixel 6 Pro doesn't struggle with the elements as the prior Pixels have; however, it's still far from that of the iPhone 13 Pro Max.
Camera
The next aspect that makes the term Pixel camera: the cameras. Google set the standard for what could be done using computational photography. Even though other smartphone makers have got on board, Pixels often appear on our list of most excellent camera smartphones. This year Pixel 6 Pro is the latest model—pixel 6 Pro ups the ante.
Google updated the hardware to match the upgraded Tensor software and algorithms. According to Google, the main sensor has been upgraded to 50MP, which allows for 15% more sunlight. The 12MP ultrawide camera comes with a 114-degree field of vision, while the 48MP zoom can zoom up to 4x due to its foldable optics. Overall it's a great camera. Pixel 6 Pro can go up to 20x digital zoom. This is in conjunction thanks to the AI-powered Super Zoom that helps to clean the final image.
As one of the latest AI features powered with the Tensor chip, the most impressive is the Magic Eraser. This is a remarkable feat of engineering that lets users effectively eliminate unwanted objects off the backgrounds of your pictures. It's certainly not 100% perfect, but it's a step in the right direction. Pixel 6 Pro will automatically suggest things to get rid of. Google states that it's best on beaches as well as in parks.
Without further delay, here's an analysis of how Pixel 6 Pro stacks up against the iPhone 13 Pro Max, the current reigning king of our top camera phones.
Video
Video also received growth due to Tensor. It is possible to record HDR Live in HDR. This gives you stunning and vibrant videos, and 4K video is accessible on the camera's front-facing. Selfies recorded with the camera have improved sound, thanks to the ability to record speech Enhancement. Google states that its Pixel 6 Pro will better remove background noise and allow your voice to be heard clearly.
Pixels have always produced excellent photographs, but they have had difficulty with video. This year has seen a change; however, I'm not convinced it's as great as the iPhone 13 Pro Max. There's no Cinematic mode available on the Pixel 6 Pro, but this isn't negative.
Performance
We knew that the Pixel 6 Pro's camera would be great, but the engine behind the quality is Tensor Google Silicon's very first-generation chip. It's made to support AI and machine learning (ML), and you'll see this evident in computation photography. It can also use for speech recognition on devices, translation and other AI-powered functions like Live Transcribe and Live Translate.
Google straight up said that benchmarks don't reveal the whole story of Tensor. However, we must look at benchmarks to draw comparisons to other models such as those of the Galaxy S21 Ultra and iPhone 13 Pro Max. This is an analysis of how Pixel 6 Pro's 12GB of RAM compares to its competitors.
Overall, for a first-generation product, Tensor doesn't do too bad. Apple Bionic is far superior, in comparison, and Google Silicon has a long way to go before it can catch with. However, in most of the tests mentioned above, Tensor holds its own against the Snapdragon 888 (and its Adreno 660 GPU) in the Galaxy S21 Ultra.
Battery Life and Charging
The Pixel 6 Pro has the biggest battery we've witnessed in a Pixel with 5000 mAh. This is the same capacity that Galaxy S21 Ultra and Galaxy S21 Ultra and 500 mAh larger than The OnePlus 9 Pro. We don't have the exact capacity of the iPhone 13 Pro Max's battery in milliamp-hours; however, you can't draw any direct conclusions with Android and iPhone batteries, even though they are similar in size.
We know that all phones mentioned above last for longer than 10 hours during battery life tests. This is when we set the phone's brightness to 150 nits in brightness and assign it the task of constantly reloading websites via a mobile connection until it can kick the bucket.
I am completely shocked. This phone's shockingly poor battery life results give me some cause for concern. A smartphone with 5 watts of battery power shouldn't be able to deliver something like this. Even if Tensor is a first-generation device (with the older modem for 5G), I had hoped to see a lot more.
Software and special features
Its Pixel 6 Pro debuts with Android 12, which arrived for all other compatible Pixels on the 19th of October. Even though you'll get all the OS level features available on any Pixel that is Pixel 3/3 XL and up, The Pixel 6 Pro will be the place where Android 12 shines, especially thanks to the brand new Material You design language and the theming system.
Rumors that preceded the launch of the Pixel 6 Pro suggested that we'd see a longer-lasting support plan for this Pixel 6 series. Although this is true in one aspect -the phone will be receiving five years' worth of security patches, Google has committed to only the promise of three years' worth of Android updates as of writing. Given that Google now owns the chip that powers the Pixel 6 Pro, I consider this very unpalatable. I was expecting updates to rival those of Apple.
Live Translate is a feature that allows you to Live to Translate feature lets you point your camera at a sign written in an unfamiliar language and see it translated. Or, you can ask the Assistant to serve as the interpreter for you, translating the message in real-time. Google demonstrated this during an interview with Marie Kondo.
Google continues to set the pace in making phone calls more efficient. It's not just that Call Screen is still here -which lets calls announce themselves before you answer the phone, but now you can receive wait time estimates as well as the call menu transcripts to help you navigate those nagging choices when calling the number for a business. Assistant is the ideal phone call assistant today.